Au pair or study abroad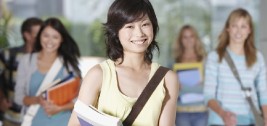 We understand that becoming au pair or choosing to continue your education abroad are completely different choices. However, we want to compare the two experiences. One does not exclude the other.



A. Cost *
+ €340 /month
Au pair program

Accommodation: 0 €/month
Food: 0 €/month
Insurance: 0 €/month
Energy bill: 0 €/month
Pocket money: + €340/month
Transport: Bicycle provided.

Live in a Dutch household which has a Dutch network. Immerse in authentic Dutch (or English) environment. Receive up to EUR 350 compensation for language course per year.

Dutch people are friendly and are genuinely interested in other cultures. They love to communicate with their au pair. Families want to expose their kids to Chinese language and culture.

- €1200 /month
Studying abroad

Accommodation: -500 €/month
Food: -200 €/month
Insurance: -50 €/month
Energy bill: -100 €/month
Pocket money: - €250/month
Transport: - €100/month

Chinese students often stay in their comfort zone and interact mainly with fellow Chinese students. Busy study schedule leaves no time to study or improve their language skills.

Chinese students devote their time to studying. They do not spend time socializing with the locals or networking.


*The following costs are an average indication.*
B. Security
1) Protection by law
An au pair program is an official cultural exchange program which is under strict provision of both Dutch immigration law and Dutch Immigration Labour law. The Dutch Bureau of Immigration is the official organization which supervises this program. Thus guarantees the lawful nature of this program and its security.

2) Strictly screened host families
All the host families are strictly screened by Au Pair Bureau HELDER. They are requested to provide official "declaration of good behaviour" from the municipal government, in addition to information on their economical situation and previous experience with any au pair programs.



3) Host family as a guardian
Host family will act as guardian and they will guide and support the au pair. They are the safety net in the coming one year.
4) Support and guidance from Au Pair Bureau HELDER
Au pair bureau HELDER provide 24-hour free service for our au pairs for the whole program year. You can always count on our help. We are the safety net for our au pairs.

5) Official institutions to secure the rights of au pairs
In the Netherlands, there are different institutions which are there to protect the rights of au pairs. From IND (Dutch Bureau of Immigration), to different organizations that supervise the work of au pair bureaus such as BONAPA (The trade organization for Dutch au pair agencies). There is even a toll free telephone number from the Dutch government for au pairs in the Netherlands: 0610823594。

6) Well insured program year
All host family will provide special au pair insurance including third party liability insurance to cover matters that are not covered in the compulsory Dutch Basic Health Insurance.