Au pair programma conditiie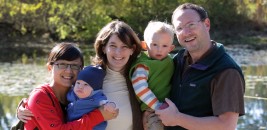 Rule of thumb: Open mind and open communication.

It is essential to realize the extra person you will have under the same roof speaks another language, comes from another culture and has other habits. The au pair will need to be considered as every other family member but she or he will have to accustom to another culture and routine. Proper and clear guidance instructions are of most importance. After all, it is a cultural exchange program. We are convinced that with open and truthful communication, the right guidance and a bit of patience, you and your au pair will benefit from this program, enjoy this journey together and maybe harvest life – long friendship.

Program conditions
Official program conditions

Age of candidates: between 18-31 years

Program duration: maximum 1 year
Working hours: 30 hours a week, maximum 8 hours a day
Off – time: minimum 2 free days per week
Holiday: Minimum 2 weeks payed holiday (for stay duration of one year)
Pocket money: Maximum EUR 340
Accommodation: One separate room
Food and lodge cost: fully covered by host family
Language course: Dutch or English (host family will cover certain cost)
Basic insurance: covered by host family
Health insurance: covered by au pair (subsidized by the Dutch government)
Au pair visa and staying permit: covered by the hoist family

Host family requirements:
Family composition: two person with sufficient and sustainable financial resource
Family income: 150% of the gross minimum income
Family should be able to provide au pair their own room