Requirement for au pair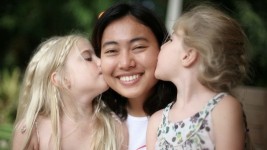 Au Pair Bureau HELDER is searching for young people who are well-educated, have the right mentality, skills and motivation. All the right ingredients for success. We are looking for independent, caring, trustworthy and energetic people. We are looking for candidates who are choosing his or her own life's path and consider this au pair year as a life-building experience. To succeed as an au pair, you need to embrace challenges and devote yourself in this adventure.

We find it paramount that you as an au pair, you genuinely like children. You are interested in children and you know or would like to learn how to spend time with them. You would like to help the host parents in raising the younger kids and managing the household.



We select our au pairs under the following conditions:
The following are administrational requirements for au pair program:
Age: preferably from 20 years old
Education: minimum college and preferably university

Language: good knowledge of English (especially spoken) and interest in language learning
Love for children: genuinely interested in children and would like to be a part of a family
Character: trustworthy, caring, responsible, cheerful, energetic and flexible
Experience and affiliation with childcare is preferred

You have a valid passport
You have never taken part in a cultural exchange program
You don't have a criminal record
A tuberculosis (TBC) research is compulsory
You may not take care of any person who needs special care
You might not have stayed in the Netherlands illegally