For Au Pair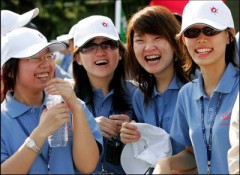 Do you dream of seeing more of the world? Do you want a life-changing experience? Do you love being with children and taking care of them? Would you like to explore Holland, the country where the "happiest children" live and experience its culture? How about improving your English or maybe learning some Dutch?

Yes to all question? What are you waiting for? Come and join our cultural exchange program Au pair in Holland!

You will become part of a family here in Holland, like a big sister or brother to the younger children of the family. You will be an important support to parents in helping them to take care of the kids and do light household tasks. You will have opportunity to get to know some lovely people and get acquainted with the wonderful Dutch culture.

The team behind Au Pair Bureau HELDER is from both Dutch and Chinese cultures. Two of us are proud parents of multi-cultural and bilingual children. We would love to be your guide during this amazing journey.

Please register with us or contact us for more information.